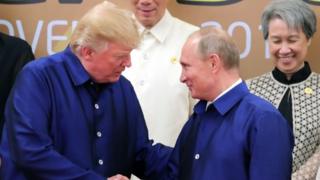 President Vladimir Putin felt insulted by allegations of Russian interference in the US election, Donald Trump has said after meeting him briefly at an Asia-Pacific summit in Vietnam.
"You can only ask so many times... he said he absolutely did not meddle in our election," the US president said.
Mr Putin later dismissed the allegations as "political infighting".
The justice department is investigating the claims, as well as alleged collusion involving Mr Trump's team.
Several key former aides have already been named in connection with the inquiry.
George Papadopoulos, a campaign adviser, has pleaded guilty to lying to the FBI about the timing of meetings with alleged go-betweens for Russia.
Former campaign manager Paul Manafort and an associate are also currently under house arrest on charges of money laundering which are unrelated to the election, but linked to the investigation.
Mr Trump said on Saturday he had had "two or three" brief conversations with his Russian counterpart at the Asia-Pacific Economic Co-operation (Apec) summit in the port city of Da Nang.
"He (Putin) said he didn't meddle. He said he didn't meddle. I asked him again," he told reporters on Air Force One as he headed to Hanoi.
He said he believed Mr Putin was "very insulted by it, which is not a good thing for our country".
Mr Putin later dismissed the claims of Russian interference through contacts with Mr Trump's campaign team, telling reporters: "Everything about the so-called Russian dossier in the US is a manifestation of continuing domestic political struggle."
A formal bilateral meeting between the two presidents at the Apec summit had been widely expected, but Mr Putin later said scheduling and protocol issues had got in the way.
He said he regretted not talking to his American counterpart for longer, and that the absence of an individual meeting had shown "that relations between Russia and the US have not yet come out of a state of crisis".
During the two-day summit, the pair did manage to sign off a statement vowing to continue the battle against so-called Islamic State in Syria until the militants are defeated and calling for a political solution to the conflict.
They were seen chatting briefly on three occasions: at two traditional photo opportunities and just before the summit dinner on Friday.
They both offered praise for one another, with President Trump saying: "We seem to have a very good feeling for each other, a good relationship considering we don't know each other well."
President Putin, meanwhile, described Mr Trump as "a well-mannered person and comfortable to deal with".
They met for the first time in July at the G20 summit in the German city of Hamburg.