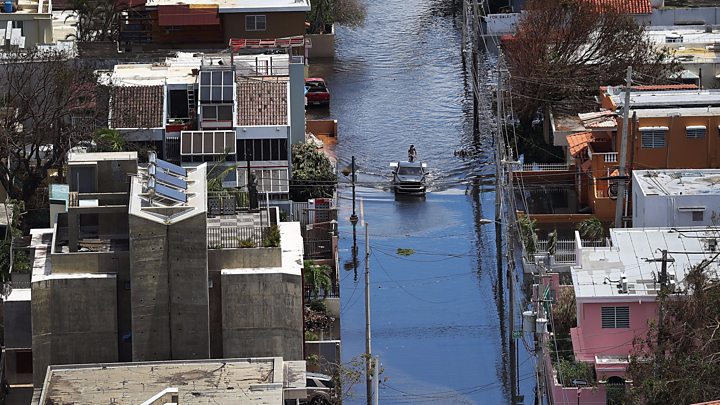 US President Donald Trump has waived shipping restrictions to help fuel and supplies reach storm-ravaged Puerto Rico, the White House has said.
Mr Trump "has authorized the Jones Act be waived for Puerto Rico", a statement said on Twitter.
Puerto Rico had pressed the US to lift the act, which limits shipping between coasts to US-flagged vessels.
The US territory is struggling with fuel, water and medical shortages one week after Hurricane Maria struck.
Federal emergency management officials and the US military have stepped up relief efforts as the scale of the island's crisis has become clear.
Many of its 3.4 million residents have been without electricity, reliable drinking supplies and other basic necessities since the storm struck.
The most powerful hurricane to hit Puerto Rico in nearly 90 years, Maria swept across the island last Wednesday.
The death toll was not as severe as Hurricane Irma - Maria claimed more than 30 lives in the Caribbean, including at least 16 in Puerto Rico.
But the storm knocked out the US territory's entire power grid, crippling its water and sewage treatment system.
The delivery of relief supplies has been hampered by roads rendered impassable by fallen trees or flooding.
Meanwhile, 91% of cellular communication sites remain out of service, US officials say.
Governor Ricardo Rossello called the devastation an unprecedented natural disaster.
Puerto Rico, which gets most of its fuel by ship from the US, has been under petrol rationing since the hurricane struck.
Service stations have been able to stay open only a few hours at a time.
Desperate residents have been queuing for hours to get diesel fuel to power electrical generators, and some have mobbed water-supply tankers.
Most hospitals are without power or adequate fuel for their own generators.
The 1,000-bed US Navy hospital ship Comfort will arrive next week, after sailing from its home port in Virginia on Friday.
One resident, Juan Cruz, told Reuters news agency as he filled a container from a water tanker: "We can use more help. We are US citizens. We are supposed to be treated equally."
The Federal Emergency Management Authority said it had delivered more than 4.4m meals and 6.5m litres of water to Puerto Rico and the US Virgin Islands by Wednesday.