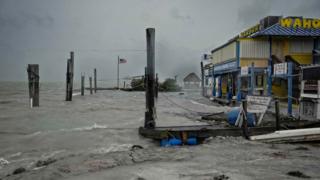 The eye of Hurricane Irma has hit Florida's southern islands as a category four storm, forecasters say.
The storm is expected to pummel the low-lying Keys with winds reaching 130mph (209km/h), before travelling north-west up Florida's Gulf Coast.
More than 6.3 million people were told to evacuate Florida, with warnings of a huge storm surge that would be "life-threatening" to anyone in its path.
Irma has already devastated parts of the Caribbean with at least 25 deaths.
What is happening in Florida?
Extreme winds, around the eye of the hurricane, are expected to last for the next two hours in the Lower Florida Keys area, which includes Key West.
All residents had been ordered to leave amid fears that a storm surge reaching 15ft (4.6m) could hit the coral cay islands, most of which are only a few feet above sea level.
One official had warned staying on the islands would be "almost like suicide".
As the eye of the storm is expected to move north to mainland Florida, hundreds of thousands of homes in the state are reported to be without power and some 50,000 people have taken refuge in shelters.
Cities such as Tampa and St Petersburg lie in the path of the storm. The Tampa Bay area, with a population of about three million, has not been hit by a major hurricane since 1921.
Florida's Governor Rick Scott told NBC's Today Show that though authorities had prepared all week for the arrival of Irma, the prospect of such a large storm surge was "really scary".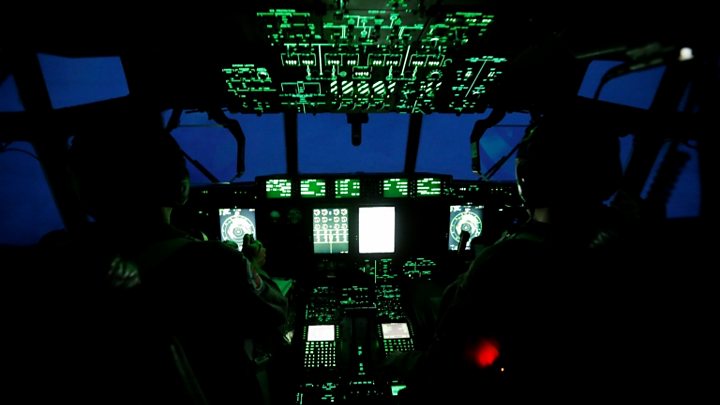 Which other areas have already been hit?
Irma is the most powerful Atlantic storm in a decade, and has already caused widespread destruction on several Caribbean islands:
What about Hurricanes Jose and Katia?
Another storm, Jose, further out in the Atlantic behind Irma, is a category four hurricane, with winds of up to 130mph.
It initially followed a similar path to Irma and had threatened several islands already hit by its predecessor, but it has now tracked harmlessly to the north.
Barbuda, whose residents had already left the island as Jose approached, was spared, as were St Martin and St Barthelemy.
Hurricane Katia, in the Gulf of Mexico, a category one storm with winds of up to 75mph, made landfall on the Mexican Gulf coast in the state of Veracruz late on Friday before weakening to a tropical depression.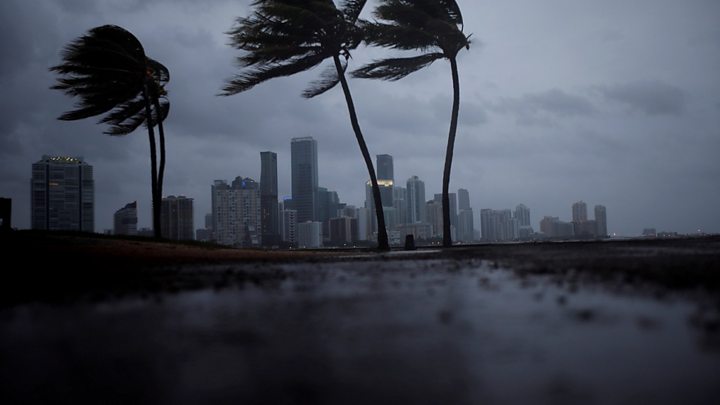 ---
Are you in the region? Are you a holidaymaker unable to get a flight home or a resident who has been preparing for Hurricane Irma? If it is safe for you to do so, share your experiences by emailing haveyoursay@bbc.co.uk.
Please include a contact number if you are willing to speak to a BBC journalist. You can also contact us in the following ways: