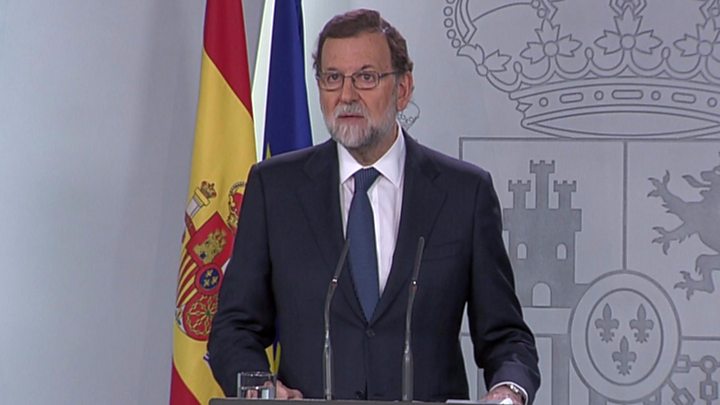 Spain's prime minister has put Catalonia on notice that it could impose direct rule on the region.
Mariano Rajoy said his government had asked the regional government to clarify whether or not it had declared independence.
The move is the first step towards suspending Catalonia's autonomy under the constitution.
Catalan leaders signed a declaration of independence on Tuesday but halted implementation to allow for talks.
Mr Rajoy accused Catalan President Carles Puigdemont of having created "deliberate confusion" and said he wanted to restore "certainty".
"This call - ahead of any of the measures that the government may adopt under Article 155 of our constitution - seeks to offer citizens the clarity and security that a question of such importance requires," Mr Rajoy said.
"There is an urgent need to put an end to the situation that Catalonia is going through - to return it to safety, tranquillity and calm and to do that as quickly as possible."
Mr Rajoy was speaking after holding an emergency cabinet meeting to discuss the government's next steps.
---
Confrontation deferred
James Reynolds, BBC News, Madrid
This country woke to the possibility that Madrid might immediately invoke emergency powers in order to suspend self-rule in Catalonia.
But Mariano Rajoy's decision to defer any extraordinary action lowers the temperature of the political crisis here - at least for now.
Instead, Mr Rajoy's decision to seek clarification from Carles Puigdemont establishes a form of de facto dialogue between Madrid and Barcelona.
But agreement doesn't necessarily follow. Mr Rajoy is still under pressure from conservative commentators to take tough action against the authorities in Catalonia.
Mr Rajoy's actions now may be based on Mr Puigdemont's reply, which the Spanish media expects within several days.
If the Catalan president says that an independence declaration was indeed made, Mr Rajoy may move towards emergency steps. If Mr Puigdemont says that none was technically made, Mr Rajoy may accept that Catalonia is no longer breaking Spanish law.
---
Spain has been in turmoil since a disputed referendum in Catalonia on 1 October which was declared invalid by the country's Constitutional Court.
Addressing the Catalan parliament in Barcelona on Tuesday evening, Mr Puigdemont said the autonomous region had won the right to be independent as a result of the vote.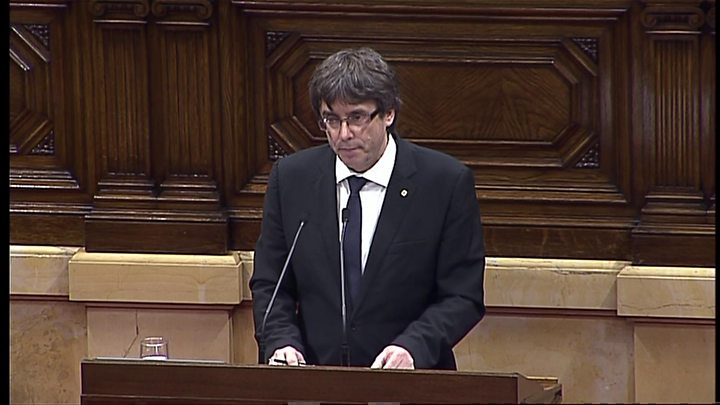 He urged the international community to recognise Catalonia as an "independent and sovereign state".
He said the "people's will" was to break away from Madrid but he also said he wanted to "de-escalate" the tension around the issue.
With this in mind he announced that he was "suspending the effects of the declaration of independence" for more talks with the Madrid government, which he said were needed to reach a solution.
He and other Catalan leaders then signed the declaration of independence. It is not clear if the declaration has any legal status.
Crowds of independence supporters in Barcelona cheered Mr Puigdemont's initial remarks but many expressed disappointment as he clarified his stance.
Influential figures including Barcelona's mayor Ada Colau and European Council President Donald Tusk had urged Mr Puigdemont to step back from declaring independence.
Almost 90% of voters backed independence with a turnout of 43%, Catalan officials say. Anti-independence voters largely boycotted the ballot and there were several reports of irregularities.
National police were involved in violent scenes as they tried to stop the vote taking place.
Catalonia is is one of Spain's wealthiest regions but a stream of companies has announced plans to move head offices out of the province in response to the crisis.
The European Union has made clear that should Catalonia split from Spain, the region would cease to be part of the EU.
---
Are you in Catalonia? What do you think of the latest developments? E-mail us at haveyoursay@bbc.co.uk
You can also contact us in the following ways: